What makes Chatbot such a powerful marketing channel? Why Chatbot are the future?
Listen, you are losing 30-50% of the business opportunity if you don't start to implement chatbots now.
Many businesses do not know about chatbots. That is the reason that motivated me to write this book.
If you'd like to grow your business or generate hundreds even thousands of leads easily while sleeping?
And do you want to turn those leads into paying customers automatically?
Then chatbots are for you.
A chatbot funnel can do all of this for you—with us as proof!
The Crunch has been using the chatbot funnel for years. It's a major reason we've grown from $0 to $4.7 Million and more in only 3 short years.
Chatbots are proving to be an effective way for businesses to scale their customer service efforts while also increasing conversion rates.
These automated bots can answer questions about product specs or price quotes for your business in real-time, without taking up any extra manpower on your part.
This chapter will talk about how chatbots are different from other types of marketing channels and how they could prove very helpful for companies in the future!
Ready to learn how and access our full result analysis?
What is a Chatbot funnel?
A chatbot funnel is how you can turn your audience into customers in a new way that gives you leverage on technology without having to hire more headcount. That is why we recommend all businesses have a chatbot.
I will go through with you how a high converting chatbot looks like:-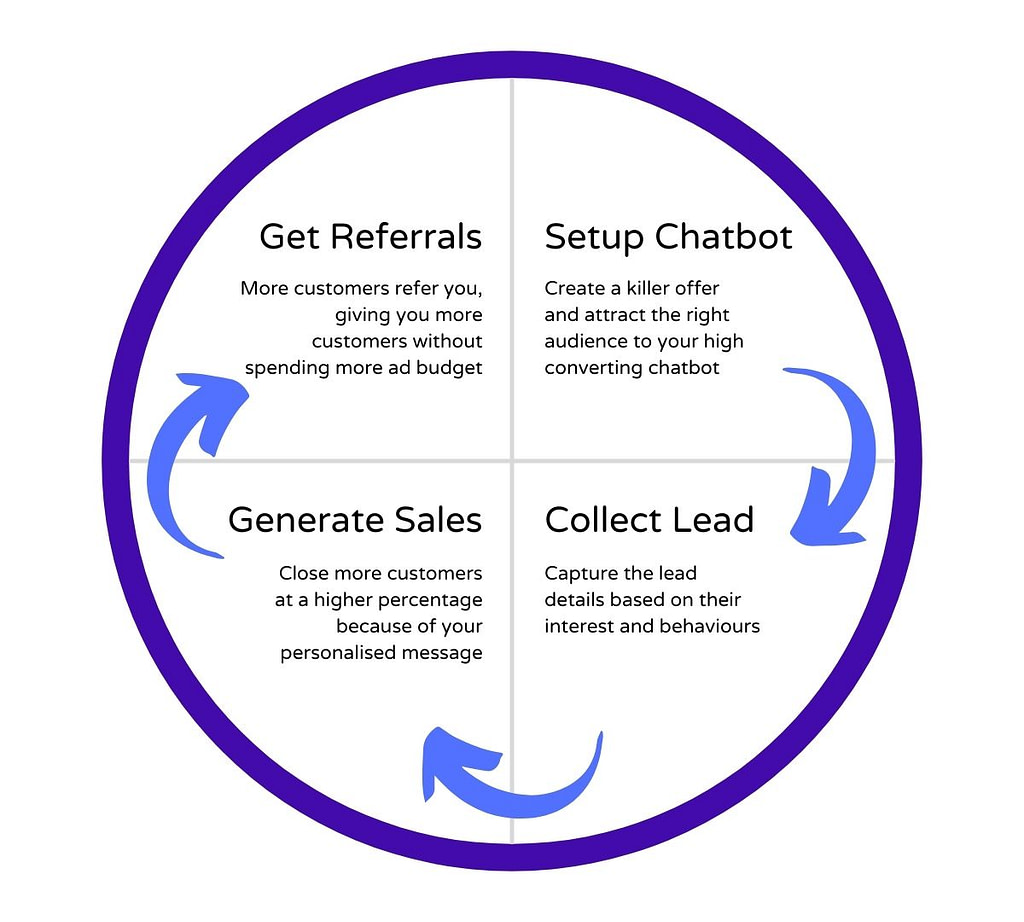 Step #1
Create a killer offer and attract the right audience to your high converting chatbot.
Step #2
Capture the lead details based on their interest and behaviours.
Step #3
Close more customers at a higher percentage because of your personalised message.
Step #4
More customers refer you, giving you more customers without spending more ad budget.
Boom! Here is the high converting chatbot funnel, by leverage on automation to give a personalised experience to your audience.
After reading all these, and you might say, the chatbot is not for your business. Our customers love the personal touch and they don't like to talk with robots.
Throughout our experience, we have witnessed this crazy high number from our client campaign across different industries, let us show you the number.
Real Chatbot Use Cases & Results
Product Industry
Lead Generation Industry (B2B)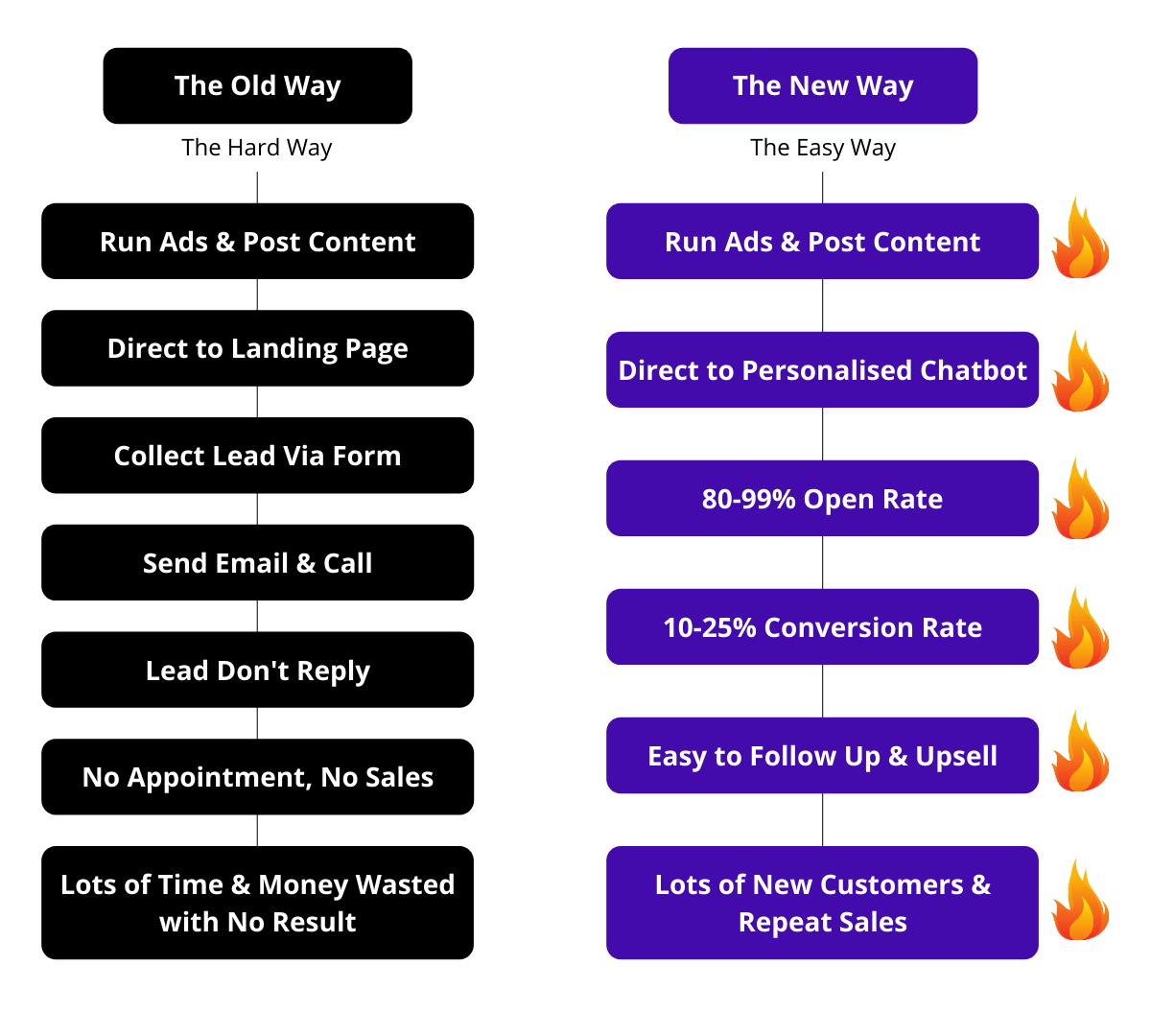 Education Industry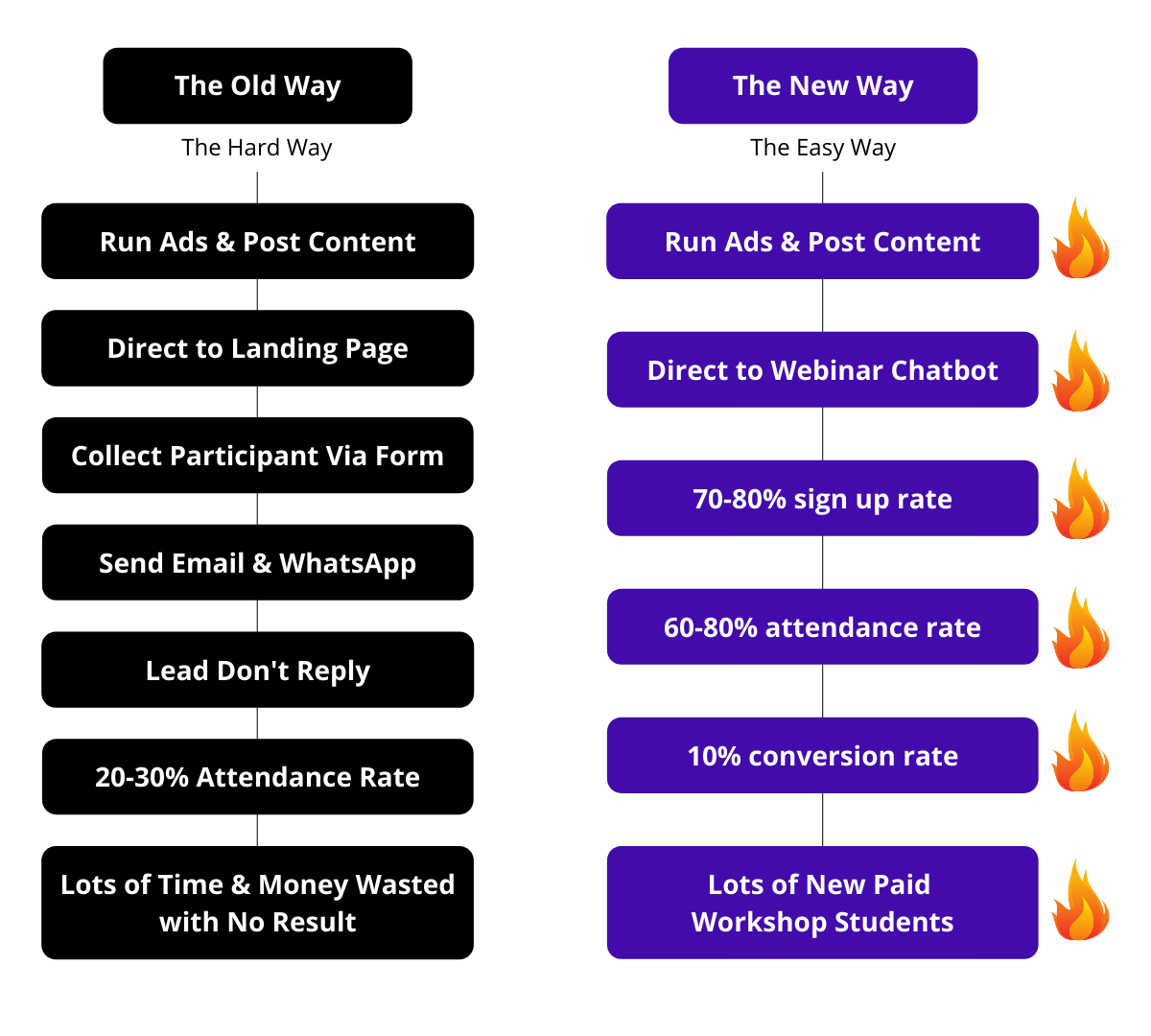 The Chatbot provides a great experience for the user if done correctly and adapts to the user's experience.
Normally, you get 3 ROAS from the marketing ad spends. But with the chatbot, the result can be 8 or more!
In some of the cases, we manage to lower the average cost per lead to 57%. This means instead of having 100 leads, now you can get 200 leads by using the same amount of budget.
One of the clients even gets 288 customer reviews on Facebook with the Chatbot implementation. They love our chatbot response and love the ordering process, and we even get good reviews because of our smooth chatbot experience.
Another success story was, we were able to increase the webinar attendance rate from traditional 30% up to 70-80% by using Chatbot webinar funnel. Huge success and improvement from the normal email reminders.
Why is chatbot so effective?
Chatbots are also more efficient than other marketing channels because they can reach out to a lot of people at once with automated messages and campaigns.
Chatbot funnel has a crazy high open rate (80-100%) if compared to traditional website + email funnel with an average 15-20% open rate.

Chatbot provides a personalised experience for the users based on their interaction,

The chatbot is interactive and fun to play with, we can create an interactive quiz to engage with the audience.

Great experience leads to a high conversion rate, which means more revenue and profit for the business.

It means by utilising the same amount of marketing budget, having a chatbot give you higher returns of investment.
In the future, every company will have one chatbot to scale their business.
What does it matter for business?
Chatbots are able to talk with customers in the same way as humans do, and they can answer questions or make product recommendations. Why it's now the trend for all businesses?
The chatbot is a new interface for your company's customer service department that will cost less than hiring an employee to work 24 hours per day on chat support: all you need is one person who'll handle the more complex issue and learn to work with the automation.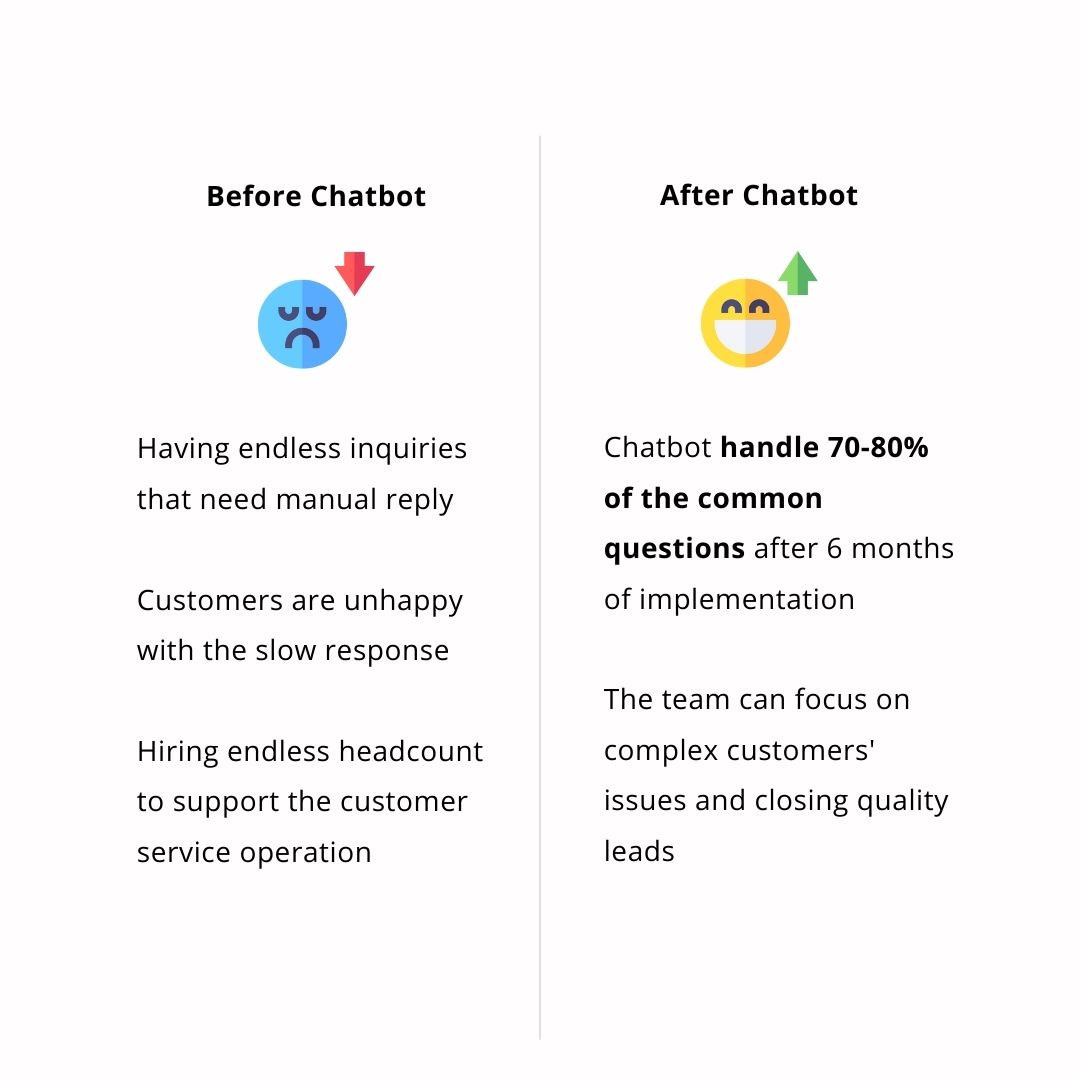 Customer service reps enjoy chatbots because these automation free up time spent answering quick fixes over the phone. These simple requests take up 70-80% of a typical rep's day, and if chatbots take over these tasks, customers would be happier avoiding a phone call and customer service reps would have more time for proactive customer support (Source: Intercom Where chatbots are headed in 2021).
Another advantage of adopting a chatbot is that customers will get faster responses. For simple problems, it's difficult for humans to beat the lightning-quick response times that computers can offer.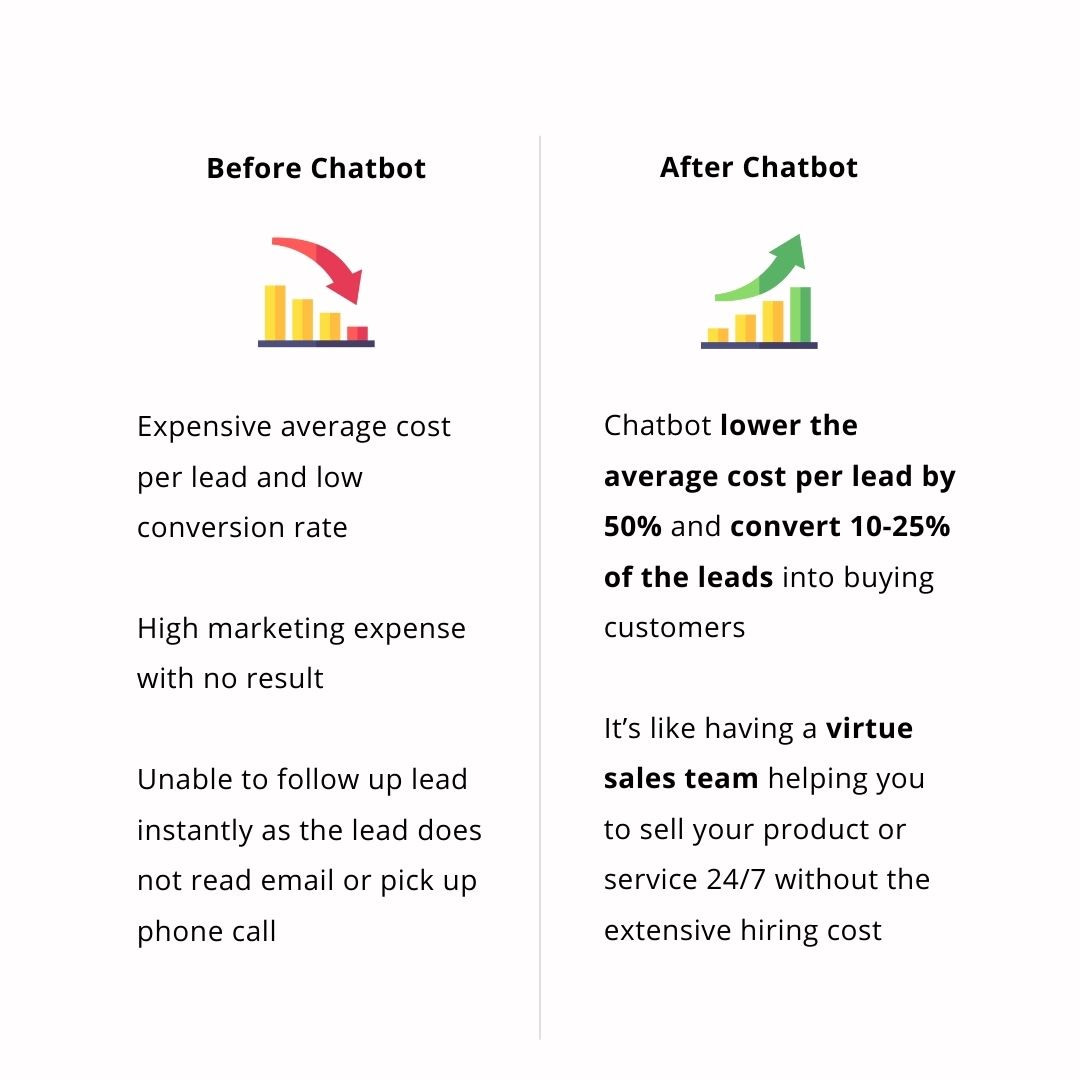 The use of chatbot technology for eCommerce is becoming more popular as evidenced by a recent survey from HubSpot Global Ai Survey 2016. 47% of respondents said they would be open to buying goods through an AI-powered chatbot.
With more than 48% of customers now using their smartphones exclusively for browsing, chatbots serve as an indispensable tool in taking conversations to the next level.
Chatbots increase business sales by an average of 67%. Chatbot interactions lead to 26% of all purchases, with 35% of business leaders saying chatbot interactions helped them close deals (Source: Intercom Where chatbots are headed in 2021).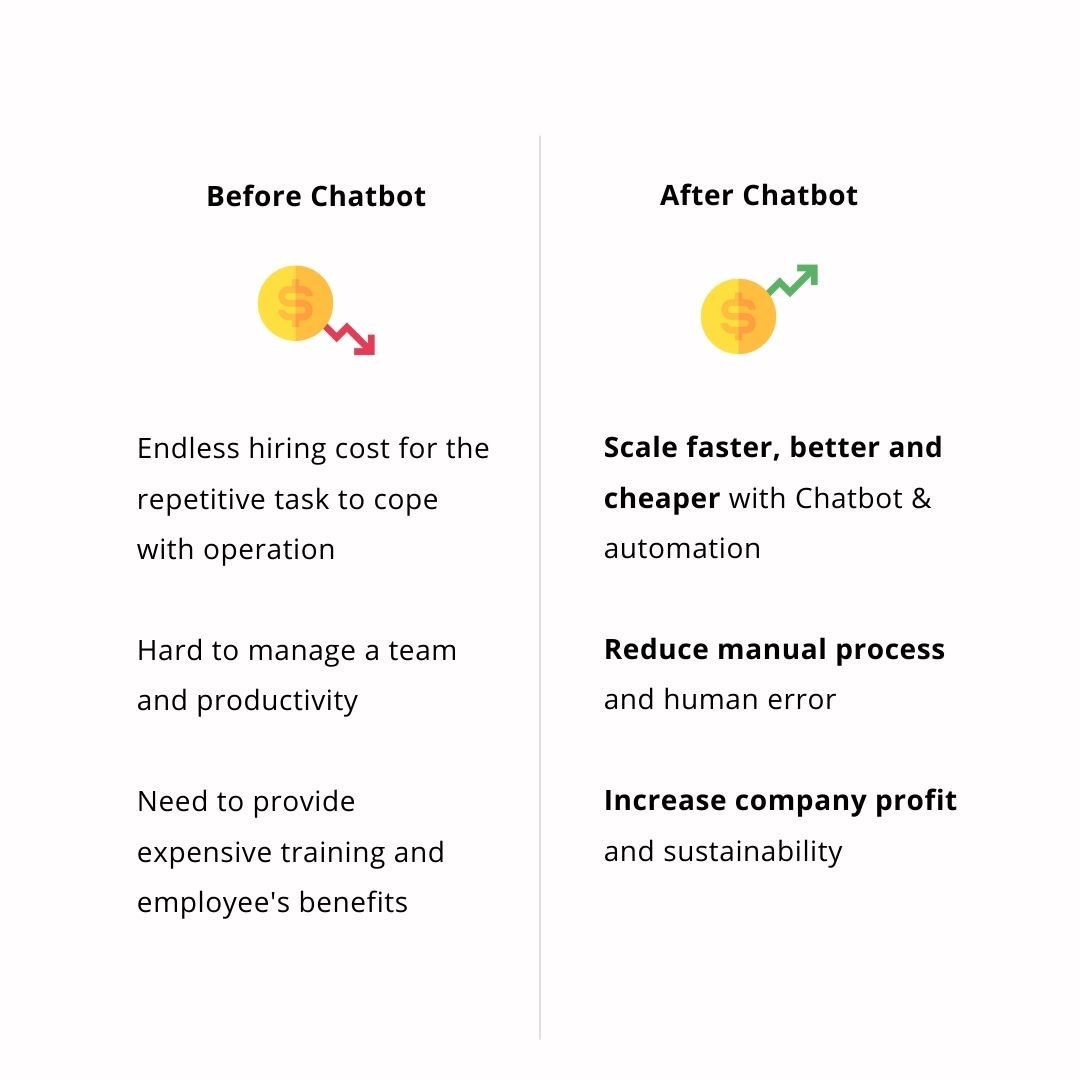 Why Chatbot is the future?
Simply put, chatbots help companies to leverage the latest technology to scale better and fast. Companies that utilize automation are more competitive and efficient than those that do not.
I hope you will understand that to win the ever-changing market, it's not the easiest to survive, but those who are able to evolve as time goes on will stay in the game.
Are you ready to start to adopt automation and chatbot? In the next chapter, we will share how to design a high converting chatbot for your business.